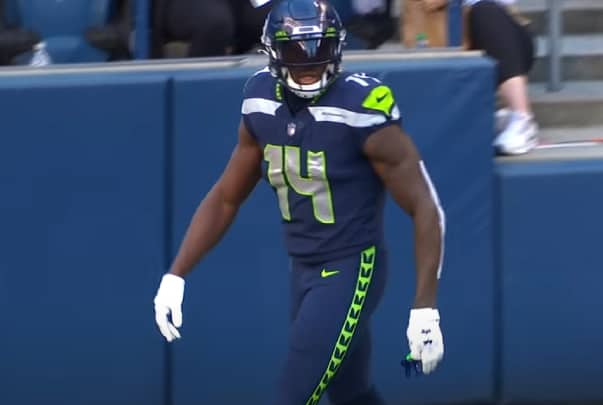 D.K. Metcalf, Seattle Seahawks.
The Seattle Seahawks dropped a crushing game to Carolina. Not many expected this outcome prior to kickoff. Some of the biggest overreactions to the game.
The NFL Media these days is full of overreactions, especially the Seattle sports media. Let's look at some overreactions that come after the Seahawks' loss to the Carolina Panthers at home.
Pack your Bags it's Over
The season is not over. The Seattle Seahawks' next games to finish out the season are the San Fransico 49ers, the Kansas City Chiefs, the New York jets, and the Los Angeles Rams. They will go 2-2 in this stretch of games to close out the 2022 NFL season. 
The San Fransico 49ers will be the toughest match-up. It's on a short bye week, and the 49ers are a good team. But, for Seattle, it is a divisional match-up so anything can happen. 
Seattle is only two back in the NFC West. Therefore, with a weak conference, the Seahawks can sneak back into the playoffs with one of three wildcard spots still up for grabs. Can Seattle still make the playoffs? If everything comes right for them (San Fran losing, Seattle beating their opponents, etc..). 
Preformed Well even in a Loss
Even in a loss to the Panthers Geno Smith still threw three touchdowns. Marquise Goodwin, Tyler Lockett, and D.K. Metcalf combined for 230 yards with each of them getting one touchdown. Metcalf got a touchdown versus one of the best corners in the league Jaycee Horn. Seattle was able to sack Sam Darnold twice at critical moments in this game. 
Geno Smith being good was a Fluke 
Geno is still a good quarterback he was still able to put up 264 yards and three touchdowns in a loss to a great Panthers defensive unit headlined by Horn, Frankie Luvu, and Brian Burns. This season Smith has passed for 3,433 yards along with 25 touchdowns (per pro football reference) and only eight interceptions he ranks seventh in a touchdown to interception ratio (according to statmuse.com). 
This Season was our Cinderella Season 
Yes, the Seahawks did better than expected. No one thought Smith would be better than his trade counterpart Russell Wilson. No one knew how much of a menace Tariq Woolen would be on that Seattle defense. Geno has shown a lot of improvement from last season with the Seattle Seahawks.  
Tank Time?
This is probably what people said this past off-season. Nevertheless, it's not time to tank for the Seattle Seahawks. They are in probably one of the best positions heading into this off-season.
They have currently the 2nd overall pick in this upcoming draft and their record is above .500. The good news is they don't have to worry about the quarterback. So they can focus on drafting more important needs (that is what a lot of NFL teams can't say). 
Final Thoughts 
The Seattle Seahawks will figure out they will be good heading into the NFL off-season. Hopefully, that will come after a Seahawks playoff win. They have the roster to make it in a weak NFC. 
They need to win at least two of their next four and San Francisco, Washington, Dallas, and the Giants to lose a few more games that way Seattle can either sneak into a wildcard spot or take the NFC West division.