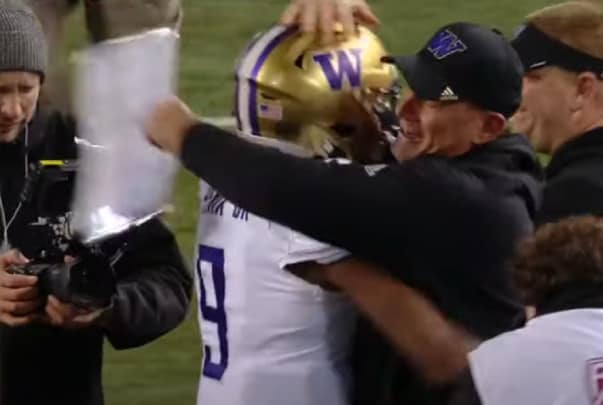 Michael Penix and Kalen DeBoer celebrate Washington Huskies 2022 Apple Cup win.
The Washington Huskies ended the regular season at 10-2 after a 51-33 victory in the Apple Cup. Here are our seven big takeaways.
With their 51-33 win in the Apple Cup, the Washington Huskies won their 10th game of the 2022 season. It was a two-point game after three quarters, but UW exploded in the final frame to pull away. Here are our 7 big takeaways.
Takeaway # 1 – Score in the four
As they have done in most of their ten wins, Washington dominated the fourth quarter. Heading into the final quarter, it was a tight game, with the Washington Huskies holding a narrow 35-33 lead. They scored three times and put 15 points on the board while holding WSU to 0 points.
Takeaway # 2 – Penix comes up big
Michael Penix had another outstanding night. The Washington Huskies quarterback completed 25 of 43 passes for 484 yards and 3 touchdowns, along with an interception.
Penix even ran the ball for two touchdowns. That included a trick play where Jalen McMillan tossed the ball back to him behind the line of scrimmage. From there, Penix took off 30 yards into the end zone.
Takeaway # 3 – The men in front
Washington's offensive line deserves a lot of credit for Saturday night's win. When their team puts up 703 yards, the hog mollies are doing something right.
They give Penix plenty of time to throw. Additionally, UW had their best rushing night of the year with 218 yards and 4 touchdowns on 24 carries.
The O-Line not only didn't allow a sack, but there were also no tackles for loss. Kudos to Troy Fautanu, Jaxson Kirkland, Corey Luciano, Henry Bainvalu, and Randy Rosengarten.
Takeaway # 4 – WRs dominate
The Washington Huskies talented group of receivers did it once again. Rome Odunze, who is having a fantastic season, made 5 catches for 157 yards and a touchdown. For the season, Odunze has 65 receptions for 931 yards and 6 touchdowns.
Jalen McMillan was right behind him with 6 catches for 150 yards and a touchdown. Ja'Lynn Polk had four receptions for 82 yards, and he scored the UW's first touchdown of the game. 
Takeaway # 5 – Sloppy 3rd
In the third quarter, Wazzu caused two turnovers. The first was a fumble by Cam Davis at the Washington State 42 yard line after a 6 yard reception. Wazzu converted the turnover into points with a touchdown drive, but they failed on the two-point attempt.
Washington rebounded quickly on their next possession, driving 64 yards in 8 plays. Unfortunately, Penix missed his receiver in the endzone, resulting in an interception by Derrick Langford. This time, however, Washington forced a three-and-out.
Takeaway # 6 – Defense makes plays when it counts.
It's hard to decide what was worse, Washington's defense in the first three quarters or ESPN's announcers. Several times the Huskies had WSU quarterback Cameron Ward in their grasp, only for him to slip away. All the missed tackles were maddening.
But when the defense needed to hold firm in the fourth, they pitched a shutout. It was the fifth time this season that UW held their opponent scoreless in the final quarter. In their last four games, Washington allowed only an Oregon field goal in the final 15 minutes.
Takeaway # 7 – DeBoer's big week
On Tuesday, Washington Huskies Head Coach Kalen DeBoer signed a two-year extension that keeps him at Montlake through the 2028 season. He followed it up with a big victory in the Apple Cup. His 10 wins are the most for a first-year head coach in Washington Huskies history.
Go Dawgs!