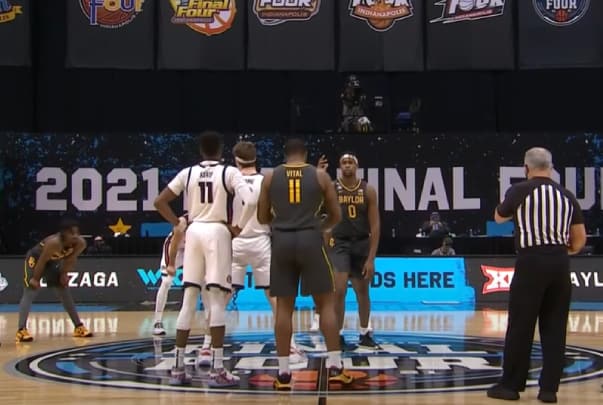 Gonzaga Bulldogs vs. Baylor Bears 2021 National Championship Game
PNWS presents what you need to know for Friday's matchup between the Gonzaga Bulldogs and Baylor Bears.
The Gonzaga Bulldogs have the chance to avenge last week's loss to Purdue. Friday evening, they face the sixth-ranked Baylor Bears in Sioux Falls.
Who: #14 Gonzaga Bulldogs (5-2) vs. #6 Baylor Bears (5-2).
Where: Sanford Pentagon – Sioux Falls, South Dakota.
When: Friday, December 2, 2022 – 5:00 PM PST.
TV: Peacock. Announcers: Paul Burmeister and Tim McCormick.
Line: Gonzaga +2.5. Over/Under: 161 (Odds Shark).
Injuries: Gonzaga – Out: Kaden Perry (back). Questionable, G Joe Few (arm). Baylor – Dantwon Grimes.
Interesting Trends:
The Gonzaga Bulldogs have won 16 of 20. But they are also 1-5 against the spread. The Zags have won 4 of 5 against Baylor. That one loss came in the 2021 National Championship Game. Additionally, the total has gone over in 4 of the Bulldogs most recent 5 games.
Baylor has won 5 of their first 7 games this season. But they have only covered the spread twice. The total has gone over in 6 of those games. In their last 15 games, the Bears are 11-4.
Outlook
Perimeter defense will be at a premium for the Gonzaga Bulldogs. Baylor averages the eighth-most points per game, led by their outstanding trio of guards.
Junior LJ Cryer is their top scorer with 17.9 points per game (ppg) while shooting 60.5%.
Point guard Adam Flagler is a hard matchup. The senior averages 16.9 ppg and 6.9 assists per game. He's also shooting lights out from three-point range, hitting triples at a rate of 54.2%.
It will be interesting to see who the Zags use to defend him. Play Flagler too loose, and he'll nail a three; too tight, and he finds either open space or an open man.
Ketonte George was the number seven high school recruit in 2022. He's fit in well with the Bears, as evidenced by his 14.4 ppg.
Their forwards aren't high scorers but are very efficient from the floor. They defend the boards well also, which has been a problem for Gonzaga. Anton Watson will have to step up his rebounding game.
On the other end of the floor, the big question is if Baylor can defend against Drew Timme. Gonzaga's senior is putting up All-American numbers at 20.0 points, 7.4 rebounds, and 3.1 assists per game.
The Bulldogs will need all they can get out of their number two offensive producer and top rebounder, Julian Strawther. The 6'7" wing from Las Vegas is showing much more offensive consistency than he did last year, scoring 14.1ppg.
In their first seven games, the Gonzaga Bulldogs committed 101 turnovers. That's very uncharacteristic of a Mark Few-coached team. Against a talented group like Baylor, they'll need to do a much better job of keeping the ball.
Baylor is only 2-1 against teams from power conferences. In their last outing, the Bears lost 96-70 to Marquette.
This is a meeting of two very good teams. However, Gonzaga may be a little more desperate.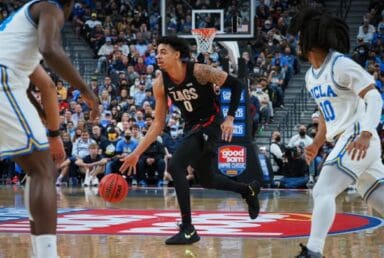 Enjoy the game.