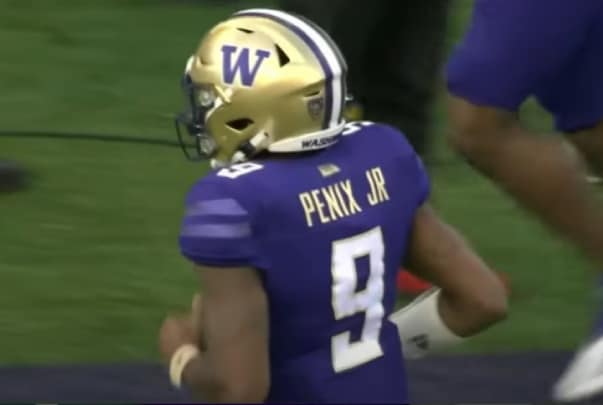 Michael Penix Jr., Washington Huskies.
Pacific Northwest Sports puts out our Pac-12 power football rankings every week during the college football season. Here's how the teams stack up as of November 15.
A pair of upsets highlighted last week's Pac-12 schedule and shook up the rankings. Pacific Northwest Sports continues our 2022 Pac-12 football power rankings, which run through the last bowl game.
If the conference is dead, someone forgot to tell the Pac-12 teams. There are six conference teams in the Top 25, led by 7th-ranked Southern California. Here are our Power Rankings for the week ending November 15, with a Pacific Northwest twist.
12. Colorado Buffaloes (1-9 overall, 1-6 Pac-12)
Last Game: USC 55 – Colorado 17
Colorado was crushed by the conference leaders again. The 55 points yielded to USC brings CU's total points allowed to 188 over the last four games.
This Week: at Washington, 6:00 PM – Pac-12 Networks
The worst-scoring Pac-12 defense travels to face one of the best offenses in college football. This won't end well.
11. California Golden Bears (3–7, 1-6)
Last Game: Oregon State 38 – California 10
It was an absolutely awful display of offense by Cal in Corvalis. The Bears offense scored 3 points, gained 156 total yards, and punted 6 times. Meanwhile, the defense couldn't get off the field, allowing Oregon State to convert 10 of 18 on third and fourth down.
Their lone touchdown came on a scoop six by freshman Jeremiah Earby in the second quarter.
This Week: vs. Stanford, 2:30 PM – Pac-12 Networks
No matter how bad these teams are, this is always must watch because anything can happen. "The Band is on the Field."
Next: Page 2 – Off the First Page