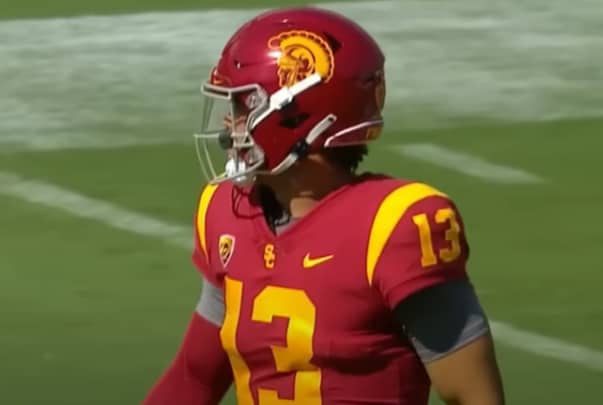 Caleb Williams, USC Trojans.
Pacific Northwest Sports puts out our Pac-12 power football rankings every week during the college football season. Here's how the teams stack up as of November 22.
Pacific Northwest Sports continues our 2022 Pac-12 football power rankings, which run through the end of the season.
A pair of elimination games decided by three points highlighted last week's Pac-12 schedule, which shook up the top five in our rankings.
There are still six conference teams in the AP Top 25, led by 5th-ranked Southern California. Here are our Power Rankings for the week ending November 22, with a Pacific Northwest twist.
12. Colorado Buffaloes (1-10 overall, 1-7 Pac-12)
Last Game: Washington 55 – Colorado 7
Just when Buffs fans thought it couldn't get worse, the Pac-12's basement team lost by 48 points at Washington. CU allowed 55 points for the second straight week. In their last 5 games, Colorado allowed 243 points (48.6 points per game).
This Week: vs. Utah, 1:00 PM – Pac-12 Networks
Colorado finishes the season against another Top 25 team. By dinner time on Saturday, the Buffaloes' miserable 2022 will finally come to an end.
11. Stanford Cardinal (3-8, 1-8)
Last Game: California 24 – Stanford 17
They call this "The Big Game." Someone forgot to tell Stanford that it lasts for 60 minutes.
The Cardinal took a 17-6 lead into the fourth quarter but hit cruise control too early. Cal rallied for three fourth quarter touchdowns to win the game. The best Stanford could muster was a 61 yard field goal by Josh Karty as time expired to cut it to a 7-point loss.
This Week: vs. Brigham Young, 8:00 PM – FS1
2022 has been a bust in the BYU Cougars' last independent season before joining the Big 12. On September 11, they were ranked 12 in the AP Poll. After reaching that point, they lost to Oregon, which kicked off a stretch of 4 losses in 6 games.
Even wounded, the 6-5 BYU Cougars are light years better than Stanford. This is QB Tanner McKee's last regular season game to impress NFL scouts.
Next: Page 2 – Trying to Even it Up