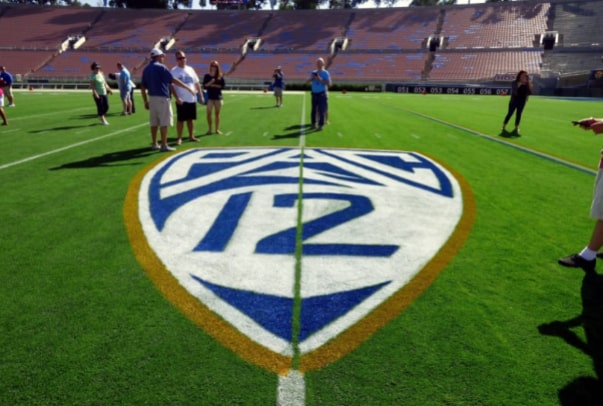 Pac-12 Logo.
Pacific Northwest Sports puts out our Pac-12 power football rankings every week during the college football season. Here's how the teams stack up as of November 8.
A knockout game highlighted last week's Pac-12 schedule. Pacific Northwest Sports continues our 2022 Pac-12 football power rankings, which run through the last bowl game.
There are five conference teams in the Top 25 (another received votes), led by 6th-ranked Oregon. Here are our Power Rankings for the week ending November 8, with a Pacific Northwest twist.
12. Colorado Buffaloes (1-8 overall, 1-5 Pac-12)
Last Game: Oregon 49 – Colorado 34
Colorado got steamrolled at home by the conference leaders. For the third straight week, the Buffs gave up at least 42 points.
This Week: at USC, Friday, November 11, 6:30 PM – FS1
Out of the frying pan and into the fire. USC is chasing Oregon for the regular season title and are happy to step over Colorado to do it.
11. California Golden Bears (3–6, 1-5)
Last Game: USC 41 – California 35
Cal's offense came out hot, driving 75 yards on their first possession. Then they went ice cold for the next 30 minutes, gaining 97 yards with an interception.
Once they tasted success in the second half, the Bears scored touchdowns on 4 of 5 drives. They outscored USC 28-21 from that point but came up 6 points short.
Jack Plummer had his best game since coming to Berkeley. The Senior completed 35 of 49 passes for 406 yards, 3 touchdowns, and an interception.
This Week: at Oregon State, 6:00 PM – Pac-12 Networks
The Bears travel to take on a team that had their season broken last week. Maybe the Bears can take advantage and keep their very slim bowl hopes alive.
10. Stanford Cardinal (3-6, 1-6)
Last Game: Washington State 52 – Stanford 14
Fans have come to expect Stanford's plodding offense. They failed to score over 15 points for the fourth straight game. Nothing new there.
5 fumbles (4 lost) were different. The Cardinal may not be a great team, but they are better than that.
Stanford's defense was playing well leading up to this game. They were literally trampled underfoot by Wazzu.
This Week: at Utah 7:00 PM – ESPN
After last week's decisive loss to Washington State, the Cardinal beating Utah in Salt Lake City has to be like climbing Mount Everest. Many try, but very few do it.
Page 2 – Keeping the Dream Alive