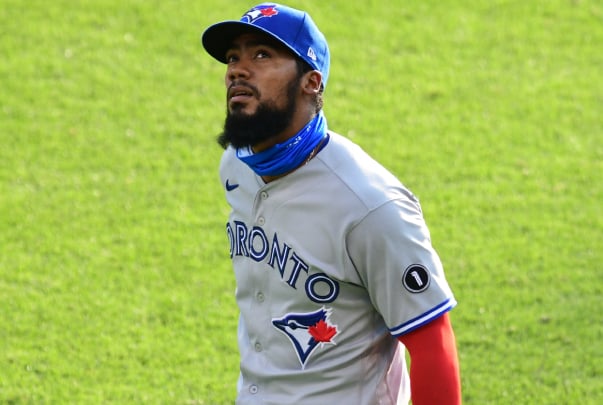 Teoscar Hernandez, Toronto Blue Jays (photo by All Pro Reels, via Wikimedia).
The Seattle Mariners traded for two-time Silver Slugger Award winner Toescar Hernandez this week.
Welcome to the Seattle Mariners Teoscar (pronounced Tay-Oscar) Hernandez. Earlier this week, the M's acquired Hernandez in exchange for reliever Erik Swanson and minor league pitcher Adam Macko.
It wasn't an expensive pickup. Swanson is a quality reliever but not a high-leverage guy, and fans don't know about the Slovakian-born starting pitcher that went with him, Macko.
Teosacar Hernandez
So what did the Mariners get in this trade?
Hernandez is mostly the Eugenio Suarez of the outfield with a strong BABIP rate. The outfielder had back-to-back silver slugger awards in 2020 and 2021 and finished in the top 20 for AL MVP in both years.
He took a step back this year, as his power numbers took a slight dip (25 home runs, .491 SLG%). His career .817 OPS looks nice, but his career .319 OBP doesn't.
Hernandez had a 30.5% strikeout rate for 2022, has only played more than 134 games one time in his career, and doesn't walk very much.
His career strikeout rate is 32%. That means the Seattle Mariners are adding another potential 175+strikeout batter to the lineup if he plays a full season.
Seattle (150 or more at bats) already has several players that clear the 30% K rate threshold: Dylan Moore (36.6%), Suarez (36.1%), Jarred Kelenic (33.7%), Cal Raleigh (33.0%), and Sam Haggerty (30.1%). This doesn't count Julio Rodriguez's 28.3% K rate.
Thankfully the Seattle Mariners have Ty France (17%) and J.P. Crawford (15.4%) to help offset them, but adding Hernandez really adds to the potential strikeouts.
Replacing Haniger
With a $14.5m arbitration number likely for Hernandez, is he an improvement over free agent Mitch Haniger? Hernandez is 2 years younger, and while he's spent time on the IL, it's paled in comparison to Haniger's time on the IL.
Justin Hollander, Seattle's GM, couldn't have made it any easier to compare two players to each other. Hernandez and Haniger have put up virtually the same exact numbers.
Both have low .800 OPS (Haniger .811, Hernandez .819), batting right around .260 (Haniger .261, Hernandez .262). Hernandez shows a bit more power, but Haniger gets on base more. The younger OF has one more year of experience and 200 more at bats in his career than Haniger.
Essentially the Mariners might've replaced Haniger with a slightly younger, slightly more powerful, but less disciplined version of Haniger that will cost around the same.
Boiling it Down
In the end, Hernandez was inexpensive. One reliever, who was used once for one inning the postseason, and a middle-of-the-pack minor league prospect, for a two-time Silver Slugger who strikes out a lot.
To sign Haniger, it would have cost the same without losing Swanson and a prospect. Projections show Mitch is in the $15-$17M range. While he is a fan favorite, Haniger comes with big health concerns every year.
The other piece of the equation is that Hollander said trading for Hernandez doesn't bump Haniger out of the picture.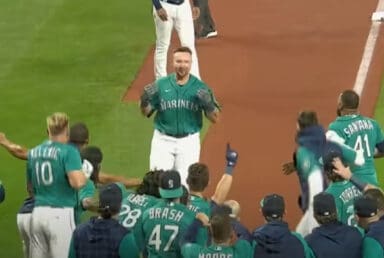 What are your thoughts? Do you like the trade? Hate the trade? Feel indifferent about the trade? Leave your comments.
Joe Swenson is an award-winning international playwright.