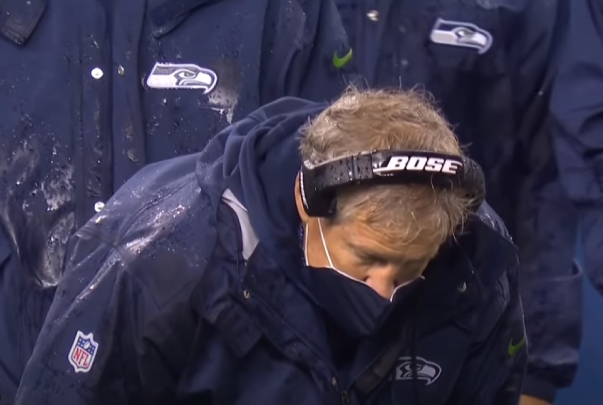 Pete Carroll, Seattle Seahawks.
The Seattle Seahawks lost a heartbreaker to Las Vegas, 40-34, in overtime. Here are our Dud and Stud of the game.
Quandre Diggs set the Seattle Seahawks up with an early interception on a pass intended for Davante Adams. Kenneth Walker capitalized on the good field position 12-yard rushing TD, and everything was right in the Seahawks' world, or so they thought. 
Vegas responded with a touchdown of their own. But Diggs had Derek Carr's number on their next possession as he intercepted another pass intended for Foster Moreau. Unfortunately, the Seahawks could only get a field goal as they were stopped on the 6-yard line. 
Interceptions and touchdowns seemed to be the day's theme. The Seattle Seahawks got one field goal; the Raiders got a touchdown, an interception, and another touchdown. At this point, the score was 21-13 in favor of the Raiders.
Seattle rallied with a 35-yard touchdown pass to Tyler Lockett, and the Raiders used up almost all of the clock before halftime and got a field goal. As a result, Vegas took a 24-20 lead to the locker room at halftime. 
The Seahawks started the second half in rhythm as Geno completed a couple of passes to Lockett and Marquise Goodwin, respectively. A Walker 14-yard rushing TD finished off the drive.
On the next drive, Las Vegas kicked a field goal before both teams combined for four possessions that ended in no points for either side.
The Seahawks used special teams star Travis Homer on offense. This scheme paid off with an 18-yard receiving touchdown from Geno Smith to Homer.
Moreau caught a touchdown pass from Carr to tie the score with 1:54 left on the clock. Both teams had drive before the end of the 4th quarter but didn't score. Regulation time ended with a tied score, 34-34 all.
Vegas opened up overtime with several Josh Jacobs runs and a couple of passes from Carr. They got down to the 38-yard line before attempting a 56-yard field goal. Unfortunately, the very reliable and accurate Daniel Carlson missed.
The Seattle Seahawks went down flailing as they completed one pass to Lockett, had one Walker run for no gain, and an incomplete pass that was intended for Homer.
The Raiders hit a home run on the game's final play, as it only takes a couple of cuts, and Josh Jacobs takes off for an 86-yard TD run.
40-34 is a respectable score, but losing a game to a team with a 3-7 record is respectable. Las Vegas gashed the Seattle Seahawks through the running game as they finished with 283 yards on 40 carries. Josh Jacobs finished the game with over 300 yards from the line of scrimmage.
They made this highly touted Seattle Seahawks defense look like a joke as they put on a terrible display of how to tackle. One of the worst performances by a professional team in that regard. The defense finished the game with one sack and 4 QB Hits as they struggled to create consistent pressure.
Next: Page 2 – Dud(s) Of The Week