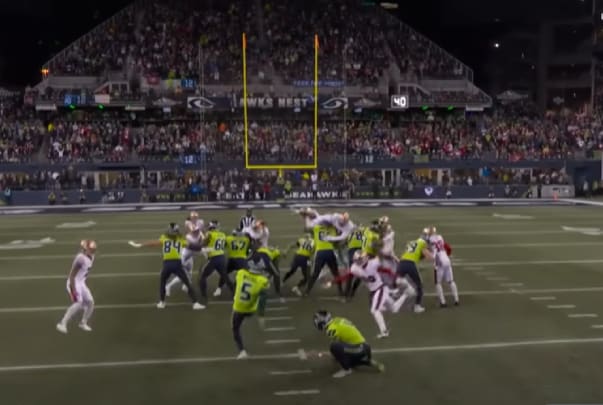 Jason Myers, Seattle Seahawks.
The Seattle Seahawks fell behind San Francisco by 18 points early in the third quarter. A late game rally wasn't enough to catch up. Here are our Dud and Stud of the game.
The Lumen Field crowd was fired up for Thursday Night Football against NFC West-leading San Francisco. Unfortunately, it wasn't enough to inspire their Seattle Seahawks to victory.
One minute into the third quarter, the Seahawks fell behind 21-3 after Niners tight end broke several tackles en route to a 54 yard score. Seattle scored the game's final 10 points, but it wasn't enough. They lost 21-13.
As 12s begin the wailing and gnashing of teeth following Seattle's stink bomb on Thursday, cooler heads should prevail. The Seahawks lost to a better team and a superior defense. To lose a one score game against a Super Bowl contender is not the debacle some people think it is. 
No team has scored more than 17 against San Francisco in 6 games, and the Dolphins were blown out by them a week earlier. While a win would have been great, this wasn't a bad loss. Seattle hung in there and had a shot at winning the game. 
On to the Studs and Duds.
Next: Page 2 – The Dud