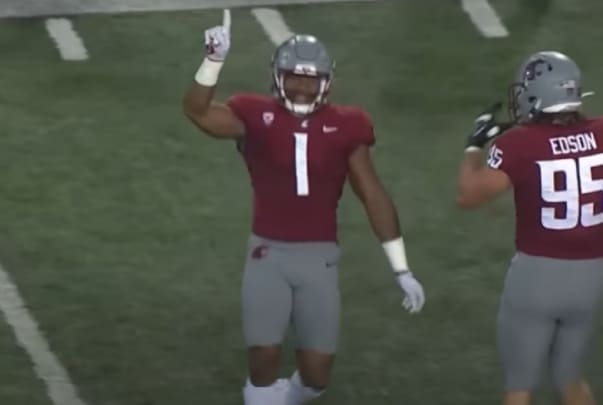 Daiyan Henley, Washington State Cougars.
Tuesday afternoon, the Pac-12 announced their MVPs and All-Conference teams. 4(ish) Washington State Cougars players earned 1st or 2nd team honors.
The Washington State Cougars finished this season 7-5 and are going to the Jimmy Kimmel Los Angeles Bowl. They wouldn't be where they are without their standout players. This year four Cougs earned First or Second Team All-Conference honors.
All Pac-12 First Team
Daiyan Henley – Middle Linebacker – RS-SR
The Washington State Cougars struck gold last summer. Second Team All-Mountain West middle linebacker Daiyan Henley transferred from in from Nevada.
After the Cougs lost Justice Rogers and Jahad Woods to graduation, many thought the team would have a big hole at linebacker. Henley came in and anchored the Pac-12's third-stingiest scoring defense.
He put up 106 tackles, averaging 8.8 per game, both good for second in the conference. His 12 tackles for loss came in third. Henley also had 3 forced fumbles, 2 fumble recoveries, an interception, and 3.5 sacks.
All Pac-12 Second Team
Brennan Jackson – Edge – RS-JR.
Brennan Jackson is one of the Washington State Cougars dynamic duo edge bookends. The redshirt junior had his best season in 2022.
He recorded 39 tackles, 11.0 for loss (2nd on WSU), and a team-leading 5.0 sacks, with 2.0 passes defended, and a forced fumble.
Ron Stone Jr. – Edge – RS-JR.
Wazzu's other edge rusher also earned Second Team All Pac-12 honors. Ron Stone didn't put up the same prolific numbers he did in 2021. But he still had 31 tackles, 4.0 for loss, including 2.0 sacks, and 3.0 passes defended.
Daiyan Henley, ST
Aside from his defensive duties, Henley was a contributor on special teams. He made several stops, but his highlight came in the Apple Cup when he caught a pass for 36 yards on a fake punt.
The Washington State Cougars offense struggled this year, so it makes sense that no players from that side of the ball earned first or second team honors.
Honorable Mention
PR Robert Ferrel V, Sr. – 10 games, 18 returns for 192 yards (10.7 avg).
P Nick Haberer, So. – 12 games, 54 punts, 41.9 yard average.
OL Jarrett Kingston, RS-Jr.
DB Armani Marsh, RS-Sr. – 11 games, 60 tackles, 3.0 tackles for loss, including 2.0 sacks, 5 passes defended, and 1 interception.
DB Chau Smith-Wade, So. – 12 games, 43 tackles, 2.5 tackles for loss, 8 passes defended, 2 interceptions, 3 forced fumbles (tied for 1st in Pac-12), 1 fumble recovery.
QB Cam Ward, So. 12 games, 298 of 405 passing (64.1%), for 3,094 yards, 23 touchdowns, 8 interceptions.
RB Nakia Watson, R-Jr. – 10 games, 130 carries for 736 yards and 8 touchdowns; 29 receptions for 290 yards and 4 touchdowns.