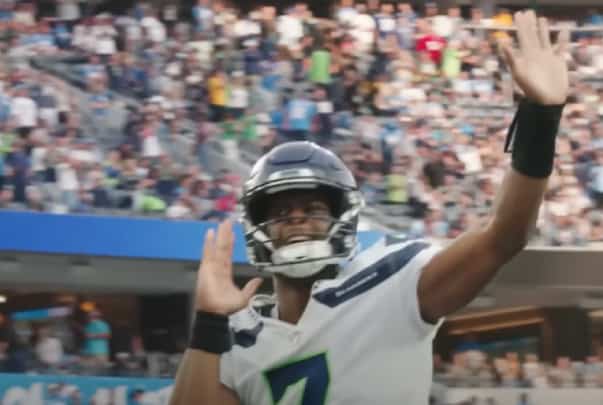 Geno Smith, Seattle Seahawks.
Before the season, we didn't think too highly of the Seattle Seahawks' chances this year with Geno Smith as the QB. One of our writers apologizes.
After writing that, I'd rather set my eyes ablaze than watch the Seattle Seahawks offense… I owe someone an apology.
As a person who isn't always the quickest to admit they're wrong, this article is tough to write. The Seahawks have already matched my preseason prediction for wins, and they still have 7 games left to play.
The Bigger Picture
When I wrote that sentence, the single biggest weakness I saw with Seattle was their quarterback. I most definitely wrote Geno off, and as yet, my inbox is still empty. So how did we get here?
There were a few reasons I was so off in my assessment of Mr. Smith. The most glaring thought was something so obvious that everyone should have seen it. But it seems like the Seattle Seahawks coaching staff, especially Pete Carroll, were the only ones who did.
Russ wasn't very good anymore, and Geno could actually run the offense. I called Seattle's scheme the Clogged Toilet offense for the last two seasons.
They'd plug away and plug away, and nothing would happen. Then once or twice a game, Wilson would throw a moonball to D.K. Metcalf or Tyler Lockett for a score. We were never sure if it was Wilson refusing to use his intermediate routes or a bad scheme. I think we've found our answer.
It wasn't the game plan
While Wilson brought his plunger with him to Denver, Geno Smith has been the perfect fit for Shane Waldron's offense. He takes what the defense gives him, uses his legs on occasion, and takes shots downfield when they're presented.
Geno has been efficient and accurate. Suddenly the Seattle Seahawks defense isn't on the field three-quarters of the game and gassed every fourth quarter. Smith also unlocked Metcalf's full route tree.
D.K. is another guy I thought was overrated and not worth his new deal. With Wilson, all he seemed able to do was run go routes and go after contested jump balls.
The big plays are down this year, but he's been a much more complete receiver. He's run slants and crosses far more than in the past. Even if Metcalf isn't targeted, he's clearing the zone for someone else coming through.
The Middle
The most interesting comparison between these quarterbacks is the middle of the field. Wilson was loathe to throw anything inside the hash marks, and Geno has thrived there.
There were some Wilson apologists who blamed the offense, saying Carroll and Waldron didn't like passing over the middle because of turnovers.
Well, Smith has shown no hesitancy to throw there, and Wilson has continued to treat it as a "no fly" zone in Denver. Eliminating half the field sure seems like something that might slow down the offense.
Mea Culpa
So there you have it; I happily wipe the egg from my face and admit I was wrong about Geno Smith. The Seattle Seahawks are legit contenders to win the NFC West, and Geno is a darkhorse MVP candidate.
Over in the Mile High City, it seems the kitchen's in flames where they tried to Let Russ cook.