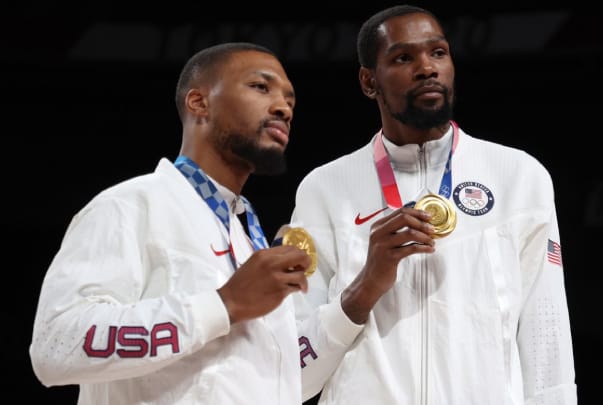 Damian Lillard and Kevin Durant, USA Basketball.
Kevin Durant trade rumors are circulating again. Could the Portland Trail Blazers be a good fit? And is KD worth the cost?
With the drama-filled problems in Brooklyn, rumors are starting to once again swirl around about whether Brooklyn will move its star player Kevin Durant. Combine that with the Portland Trail Blazers' hot start, and there could be a match.
Could KD be the last piece to creating a contender in Rip City, or would it be too risky to break up the early season chemistry?
The likely cost
There are all sorts of wild ideas running around the internet. Realistically, any deal for Durant will likely include Josh Hart's expiring contract to match salaries. If Lillard isn't included (which he shouldn't be), then the Portland Trail Blazers also have to include Jerami Grant's $20.8M expiring contract or Anfernee Simons' first-year $22.3M salary (4 years, $100M overall).
Some rumors have Shaedon Sharpe included with Simons. They don't make speakers loud enough for the "No" I would want to yell out at any idea that involves both of Portland's top 2 youngsters.
If Brooklyn wants Sharpe, then Grant and Hart would be included to match salaries. Moving Grant and Sharpe in a deal for Durant is a non-starter, sorry.
Grant is in his prime and fills too many team needs. Not to mention Sharpe's potential is off the charts. So that leaves Simons as the only remaining contract big enough to partially match Durant's salary in a trade.
Other rumors mention Portland Trail Blazers center Jusuf Nurkic going to Brooklyn instead of Little, with Nic Claxton coming back from the Nets. Unless they want fewer picks, Nurkic won't be involved.
He fits a specific need that the Blazers can't replace off the bench. Size. Claxton might be 6'11", but he also weighs 215-pounds.
Why KD is Worth the Price
Back to the deal:
Portland Trail Blazers
Send Anfernee Simons, Josh Hart, Nassir Little, Greg Brown III, and a pair of future first-round picks (2025, 2027) to Brooklyn.
Brooklyn Nets
Send Kevin Durant to the Pacific Northwest.
There's no way to sugarcoat it; I hate the idea of losing Anfernee Simons. The kid is going to be an elite NBA player, someone special.
The difference is Kevin Durant is already elite and already special. As good as Simons has looked at times, Durant, in his current form, is already better.
That's the main reason for doing this deal now. It gives Lillard the most help he can get while still in his early 30s. Dame gets his best chance to contend for a championship.
Next: Page 2 – Sharpe Development