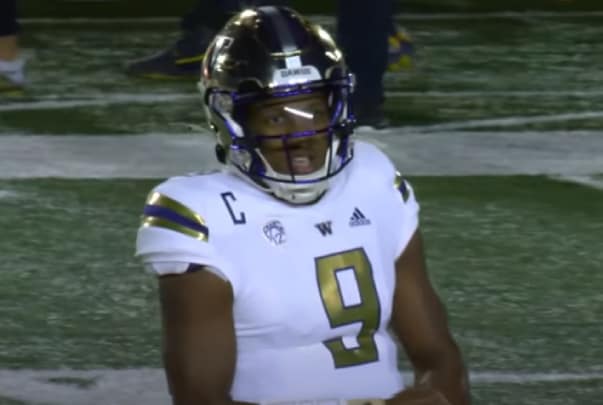 Washington Huskies QB Michael Penix Jr.
There is good news for Washington Huskies football fans. Quarterback Michael Penix Jr. will be back next season.
At the end of the Washington Huskies football awards banquet dinner on Sunday night, there was a well-received announcement. Michael Penix Jr. announced he would return to Montlake for his final year of eligibility. The crowd went bananas, to say the least.
Impressive Debut
Penix had an awesome first year at UW, completing 330 of 500 passes (66%) for 4,354 yards with 29 touchdowns and seven interceptions (1.4%).
With one game remaining this season, against the Texas Longhorns in the Alamo Bowl on December 29 in San Antonio, Penix can give fans, players, and the media something to look forward to for next season. He may be the leading candidate for the 2023 Heisman Trophy.
Before coming to Washington, Penix had success at Indiana. At least when he could play through the injuries that hampered him each season.
After his transfer, the question was how good he would be if he could stay healthy for a whole season. He certainly answered that by leading the country in passing and leading the Huskies to a 10-2 regular season record.
Now we have to see what he will do next season. If Penix has another year like this one, he may end up as the best quarterback in the history of the University of Washington football program.
Dominoes
His decision to return put the spotlight on his backups, Sam Huard and Dylan Morris. Either one or both of them may decide to use the portal and transfer to another school.
They aren't the only dominoes in play. Will receiver Rome Odunze decide to stay with the Washington Huskies for another year? The same goes for fellow WR Jalen McMillan.
Other players who thought about using the portal could stay at Washington as well. With Penix back in the fold, UW has to be an early favorite to win the Pac-12 next year.
New Line in 23
The Washington Huskies will lose some players from the offensive line who protected Penix all season long. Left guard Jaxson Kirkland is definitely gone. The NCAA gave him a sixth year of eligibility due to an injury that occurred last year.
Also, right guard Henry Bainivalu is out of eligibility. Both players will find interest from the scouts and general managers in the NFL.
Now we look forward to the Alamo Bowl. It's been a successful season, no matter what the outcome is. Go Dawgs!