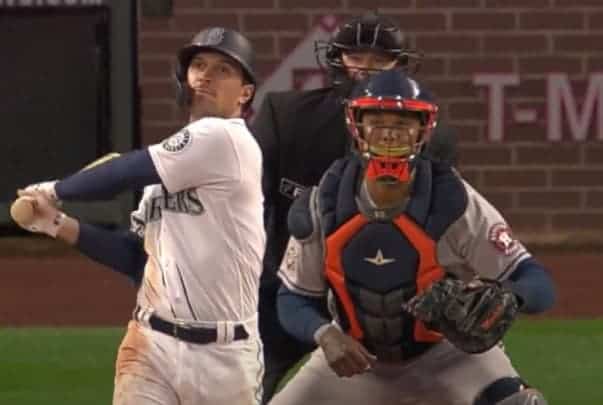 Adam Frazier, Seattle Mariners.
The Seattle Mariners are building a winner but have a big hole at second base. Options to fill the void are slim.
In the summer of 2022, the Seattle Mariners advanced to the postseason for the first time since 2001. They had a record 90-72 to finish in second place in the American League (AL) West, losing to the eventual World Series champions, the Houston Astros, in the Divisional Series.
The Mariners are building something special, and there is anticipation in the city for the first time in a long time. 
Last offseason, the Seattle Mariners front office was busy signing Cy Young winner Robbie Ray from the Toronto Blue Jays to shore up the pitching staff. They also acquired Adam Frazier in a trade with San Diego to be their everyday second baseman.
The jury is still out regarding each transaction. Ray went 12-12 with a 3.71 ERA, and Frazier hit .238, down from his career average of .278, which dropped his OPS numbers to .612. On the bright side, Julio Rodriguez won the AL Rookie of the Year award. 
The next step is to continue building up this Seattle Mariners roster and find the missing pieces to challenge the Astros for AL West supremacy. Several high-dollar shortstops on the free agent market, but the M's face stiff competition to land any of them.
This means they have to go in another direction. Recently, the Mariners have found their names attached to two All-Star caliber second basemen, Gleyber Torres and Kolten Wong.
Whether or not management can orchestrate a deal, it's clear that the team is looking to upgrade the infield and protect their best asset, Rodriguez, in the batting order.