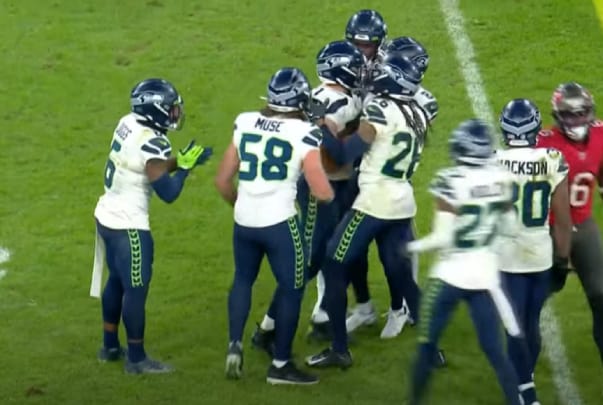 Seattle Seahawks celebrate after Cody's picked off Tom Brady.
The Seattle Seahawks four-game win streak ended with a 21-16 loss to Tampa in Munich, Germany. Here are our Dud and Stud of the game.
Being named after a bird, you would have expected the Seattle Seahawks to play better after a long flight. Unfortunately, this was not the case.
The Seahawks looked jet-lagged and unable to play a decent game of American Football. Meanwhile, the Buccaneers were ready to play, especially running back Rachaad White. 
Both teams started with punts, a missed field goal, and another punt before Tampa Bay went down the field for a TD on a 13-play, 88-yard touchdown drive. It was capped off with a 31-yard touchdown bomb to Julio Jones from the seemingly ageless Tom Brady (who has been showing his age a bit this year).  
Seattle responded with a punt before the Bucs scored again, this time on a 13-play, 86-yard drive. Leonard Fournette finished off this drive with a 1-yard rushing touchdown.
After the break, the Seattle Seahawks picked it up. A 55-yard field goal by Jason Myers finally got them on the board.
Seattle's big defensive highlight came when Tariq Woolen picked off a pass from Leonard Fournette intended for Tom Brady. To top it off, Brady was called for a tripping penalty, and the momentum swung drastically in the Seahawks' favor. 
It only took the Seahawks five plays to go 77 yards and get their first TD of the day. They went for two but were unsuccessful. 21-9 Bucs lead
Another interception, this one by Cody Barton, led to the Seattle Seahawks' second touchdown. A 19-yard Smith to Marquise Goodwin pass and XP closed the gap to 21-16.
Unfortunately for the Seahawks, that was the last time they could touch the ball as the Bucs made several runs with White and Brady kneeled three times to run out the clock. 
Next: Page 2 – The Dud