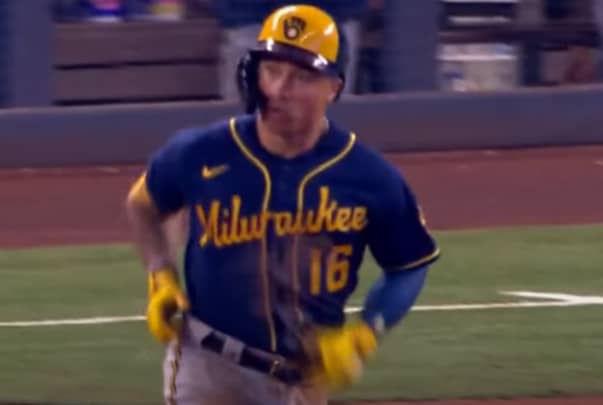 Kolten Wong hits a home run for the Milwaukee Brewers.
The Pacific Northwest Sports staff discusses the Seattle Mariners trade for second baseman Kolten Wong.
On Friday afternoon, the Seattle Mariners traded for a new second baseman. They sent Jesse Winker and Abraham Toro to the Milwaukee Brewers for Kolten Wong. A deal like that is worth a few more logs on the hot stove, and it piqued the interest of our writers.
Like almost everyone else does these days, the Pacific Northwest Sports staff works remotely. Instead of the water cooler, we talk to each other via slack.
In our slack chat about the trade were Andrew Elderbaum (AE), Joe Swenson (JS), Ed Stein (ES), Chris Phillips (CP), and Herb Nightengale (HN).
AE: Jesse Winker and Abraham Toro for Wong? Joe Swenson, thoughts?
JS: Love it. We overpaid in overall value, but Wong allows us to be more flexible with Dylan Moore and Sam Haggerty in a platoon with Jarred Kelenik (if he's still an option).
AE: That was my thought. Also, Wong is older than you might think. His skill set should age ok, but heading into his age 32 season gives me pause.
ES: Is Wong a legit top-of-the-order guy?
JS: More like a #6 guy
AE: His on base percentage is borderline for a top-of-the-order guy. Last year he gave up some batting average and showed a little more power. Joe's right; I'd say he belongs in the lower third of the order.
ES: So, no Trea Turner.
JS: MLB Tonight just did a statcast on Wong's fly balls and games against the shift, and if he were with the Seattle Mariners last year, Wong would've batted .277 with 19 HRs.
Next: Page 2 – A Rehash of 2022?