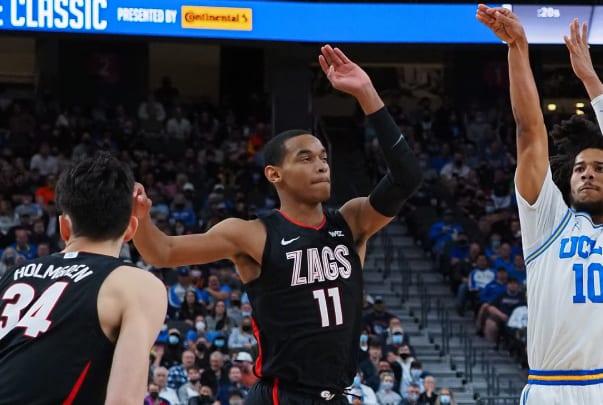 Nolan Hickman (photo by Steve Chen via flickr)
The Gonzaga Bulldogs are struggling so far this season. Many of their problems have to do with point guard play.
Sunday night, the Gonzaga Bulldogs narrowly beat Kent State 73-66 at the McCarthy Athletic Center. With that victory, the 18th-ranked Zags improved their record to 6-3 this season.
That opening paragraph should scare the tar out of Gonzaga fans. Let's break it down.
First, the Bulldogs not only narrowly beat Kent State at home, but they had to come from behind to do it. They trailed 66-62 with 3:41 left in the game. No offense to the Golden Flash supporters, but Kent State doesn't belong in the same time zone as Gonzaga.
18th ranked? The last time GU was ranked as low as number 18 in the polls was on January 1, 2018. That's almost five calendar years.
Finally, the Zags improved to 6-3. To put that stat in perspective, the last time Gonzaga lost 3 of 9 was between November 24 – December 21, 2017. They hadn't lost that many games to open a season since 2015.
Things are far from sunshine and rainbows in Spokane.
Some why behind the what
Anyone who has watched them play this season can easily pick out their flaws. Too many turnovers, bad in transition, and struggles against physical teams all contribute to the team's downfall. But what it comes down to is their play at point guard.
Gonzaga Bulldogs fans have been spoiled in recent years by some outstanding point guards. Players such as Kevin Pangos, Josh Perkins, Jalen Suggs, and Andrew Nembhard not only ran the offense but controlled the pace of the game.
Not up to speed
This isn't necessarily a putdown of current point guard Nolan Hickman. But the results speak for themselves. Even after watching Suggs up close and playing caddy for Nembhard, Hickman doesn't have the same on-court presence as his predecessors.
What needs to be asked is: are his shortcomings due to ability or confidence? On the ability side, Hickman has failed to impress with either his shooting or his passing as the starting point guard.
One thing that might help him is if he attacked the basket off the dribble every now and then. Taking the ball to the rack would keep defenders honest. Instead of what happens now, when defenses can sit back and wait for him to pass the ball to Drew Timme.
His on court leadership also needs some work. The Gonzaga Bulldogs are careless with the ball, which leads to too many turnovers. Their 14.6 turnovers per game this season is the most since Mark Few became Gonzaga's head coach in 1999.
Speaking of careless, the Bulldogs are awful in transition and often run the floor like an out of control train. Gonzaga lacks a ball handler who can settle the team down and get them into their halfcourt sets.
Unfortunately, the answer isn't very clear. Either Hickman needs to step up his game, or Few needs to put the ball in someone else's hands.
The first scenario is more likely than the second. Gonzaga's other options have a worse assist-to-turnover ratio than Hickman does.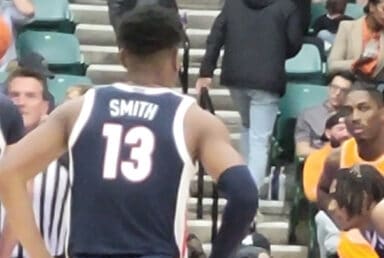 Do you think the Gonzaga Bulldogs have a problem at point guard?