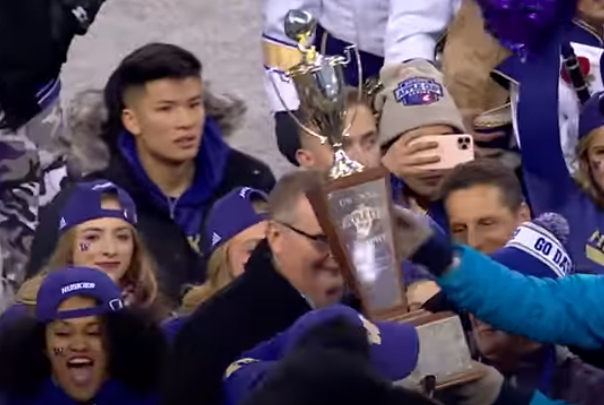 Apple Cup Trophy, Washington Huskies.
Saturday, the #12 Washington Huskies play in-state rival Washington State in the annual Apple Cup Game.
It's Apple Cup Week. The Washington Huskies travel to Spokane for this year's matchup with WSU. Like most rivalry games, these games tend to be close.
Most Washington fans believe Oregon is more of a rival. But don't tell that to Washington State. No matter what their record is, this is the game Wazzu fans have circled on the calender. 
The Washington Huskies have a lot on the line this week. If they win and Oregon loses to Oregon State, UW goes to the Pac-12 Championship Game next Saturday.
Even if they don't advance, one more win gives Washington 10 for the season and a likely spot in one of the New Year's-Six bowls.
WSU Offense 
They are averaging 115.4 yards per game on the ground, while passing for 254.91 yards per game. 
Quarterback
Sophomore Cameron Ward transferred from Incarnate Word in San Antonio after his head coach Eric Morris became Wazzu's offensive coordinator.
In the Cougars' new Air Raid offense, Ward has impressive numbers. He's completed 265 of 413 for 2272 yards and 21 touchdowns.
Earlier in the season, Ward had a problem with turnovers, but only 1 of his 8 interceptions this season came in the last 6 games. He also has 4 rushing touchdowns. The Huskies will want to keep him in the pocket and try to pressure him into bad throws.
Running Backs
Junior Nakia Watson has 115 carries for 663 yards and 7 touchdowns in 9 games. The transfer from Minnesota needs 88 more yards to hit 1,000 yards from scrimmage.
Jaylen Jenkins, a freshman from Allen, Texas, has 63 rushes for 386 yards and 1 touchdown. Also, a threat to catch the ball; he has a pair of TD receptions.
Receivers 
WSU often goes with four receivers, but in the revamped Air Raid, they also use a tight end. Either way, the Washington Huskies' defensive backs will be busy covering them.
"H" Receiver – Senior Renard Bell came back last week after missing the previous 4 3/4 games with an arm injury. Even with the missed time, he still has 27 receptions for 315 yards.
Another Incarnate Word transfer Robert Ferrel sees plenty of time in the slot. The senior has 42 catches for 446 yards and three touchdowns. He also returns punts.
"X" Receiver – Donovan Ollie, a sophomore, starts. He has 41 catches for 452 yards and 3 touchdowns.
"Y" Receiver: De'Zhaun Stribling was Pac-12 honorable last year. He picked up this season where he left off, with 44 catches for 544 yards and 5 touchdowns. 
"Z" Receiver – Bellingham native Leyton Smithson is the fourth wide receiver. He has 20 receptions for 159 yards and a touchdown.
If Smithson doesn't line up at "Z," Wazzu uses junior Lincoln Victor. Almost as productive, he has 18 catches for 192 yards. Victor also returns kickoffs.
Tight End – Billy Riviere III, a redshirt sophomore transfer from North Dakotais the primary tight end. Riviere has 10 catches for 85 yards and a touchdown. 
WSU Defense
Wazzu allows the fewest points per game in the conference (19.82). They give up 119 yards rushing yards a game and just over 246 through the air.
The Cougars play a base 4-2-5, so they are comfortable defending the pass. But they also don't have a problem sending their defensive backs into the box.
Defensive Line
Ron Stone Jr. and Brennan Jackson start on the edge. The duo has a combined 69 tackles, with 15 for loss, including 7 sacks. Last year Stone was slightly more productive; this year, Jackson has performed better. The Huskies line will have to be sure to protect Michael Penix against these two. 
A pair of first-year starters fill the interior defensive line. Seniors Christian Mejia and Antonio Pule III do a good job plugging the middle.
Linebackers
Former Second Team All-Mountain West linebacker Daiyan Henley transferred from Nevada, before the season. He' he's been outstanding with 102 tackles and 4 sacks.
Sophomore Francisco Mauigoa has 55 tackles with 3.5 sacks at the other LB spot.
Defensive Backs
Derrick Langford and Chau Smith-Wade are the starting cornerbacks. Both are good in man coverage, as they each have 6 passes defended this season. Smith Wade not only has a pair of interceptions, he's also forced 3 fumbles. 
Three-year starter Armani Marsh plays nickel back. In addition to 60 tackles, he has 2 sacks and a pick.
Strong safety Jordan Lee, who has been out since Game 5 with an injury, may be back this week. If he's a no-go on Saturday, redshirt freshman Jordan Lee will step in once again. So far, Hicks has 65 tackles, 1 sack, 1 fumble recovery, and 1 interception.
Sam Lockett III is the other safety. He has 46 tackles with 2 for loss, 1 fumble recovery, and 3 interceptions.
Odd makers have the Washington Huskies as a slight favorite (-2). UW lost last year's in Seattle and are looking for revenge. Go Dawgs!