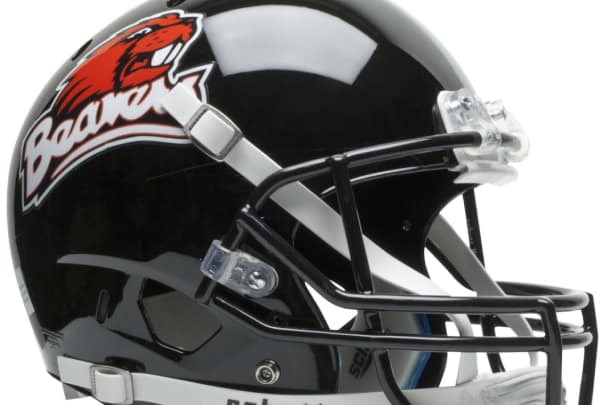 Oregon State Beavers helmet.
This week the Washington Huskies host a knockout game against Oregon State. We take a closer look at the Beavers.
The Washington Huskies beat California on the road two weeks ago, then had a bye last weekend. In 2022, UW has a 6-2 record, which is a far cry from last year.
This week they take on Oregon State at Husky Stadium. The Beavers are having a good season at 6-2 overall and 3-2 in Pac-12, tied with Washington for fifth place.
Last year, OSU beat the Huskies 27-24 in Corvallis. Washington leads the all-time series 64-33-4
Oregon State Offense
The Beavers average 425.03 yards (230.13 pass, 194.9 run) and 32.63 points a game. Washington's defense has its work cut out for them. This could be another game where the Huskies have to put up plenty of points to win.
Quarterback
Junior Chance Nolan last year had the Pac-12's number two passing rating. He's been out with a concussion since October 1 and may not play on Friday.
Redshirt freshman Ben Gulbranson should make his fourth straight start. He's completed 61 of 99 passes for 818 yards and 3 touchdowns since taking over.
Running back
OSU has three different running backs they regularly use. The one with the hottest hand stays in. Damien Martinez seems to be taking the majority of carries over the last few weeks.
Against Colorado, Martinez had 22 carries for 178 yards and three touchdowns. Expect him to be the lead back again this week.
Senior Jack Colletto should also see plenty of action. Usually, he comes in to run the wildcat, where he has six touchdowns.
Wide Receiver
Oregon State generally goes with three receivers. Senior Tre'Shaun Harrison, at the X receiver spot, has 34 catches for 477 yards and 3 touchdowns. Senior Tyjon Lindsey has pulled in 20 passes for 222 yards and 1 touchdown, while slot receiver sophomore Anthony Gould has 23 receptions for 386 yards and 3 touchdowns.
Washington catches a break as tight end Luke Musgrave, the number two tight end on Mel Kiper's 2023 Big Board, will miss the game with a knee injury. Jake Overman has 6 catches for 46 yards in relief.
Oregon State Defense
The Beavers go with a 3-4-4 base defense, but the Washington Huskies will likely see lots of 3-3-5. They give up 230.6 passing yards and 120.3 rushing yards per game.
Defensive Line
Redshirt junior Isaac Hodgins is an OSU mainstay at defensive end. He has 14 tackles on the season, including a sack against Washington State.
At nose tackle is senior Simon Sandberg, and junior defensive tackle James Rawls has 17 tackles with 5.5 for loss, including one sack.
Linebackers
At outside linebacker, Oregon State features a pair of redshirt juniors, Riley Sharp and John McCartan. Sharp has only 12 sacks on the season; however, he has 2 sacks and 2 forced fumbles. McCartan has 28 tackles2 sacks as well.
Senior Kyrei Fisher-Morris has 48 tackles and 0.5 sacks at one middle linebacker spot. Next to him, junior Omar Speights has 42 tackles but no sacks.
Cornerbacks
Defensive back is the strength of Oregon State's defense. They start Rejzohn Wright and Alex Austin at cornerback.
Wright has 29 tackles, 1 fumble recovery, and 2 interceptions on the season. Austin, who made four tackles against the Huskies last year, has 39 tackles, 1 fumble recovery, and 2 interceptions in 2022.
Safety
Senior Jaydon Grant came to Oregon State as a walk-on and has been a Beavers' captain for three years. This season, he has 43 tackles, a forced fumble, a sack, and 3 interceptions.
The other safety is junior Kitan Oladapo. Last year he was an All-Pac-12 Honorable Mention. Oladapo picked up in 2022, where he left off in 2021. The junior has 46 tackles, with three for loss, including 2.5 sacks this year.
Nickel
Ryan Cooper Jr., a JUCO transfer, has 3 interceptions this season. Washington Huskies quarterback Michael Penix Jr. will have to account for him on obvious passing downs.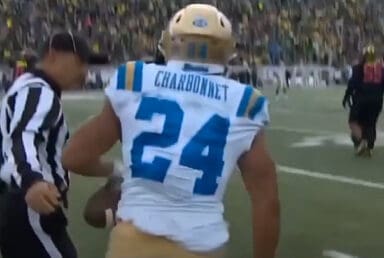 This game should be a tight one, but the Washington Huskies are 5-0 at home which is a good reason they are 4.5-point favorites. Go Dawgs!