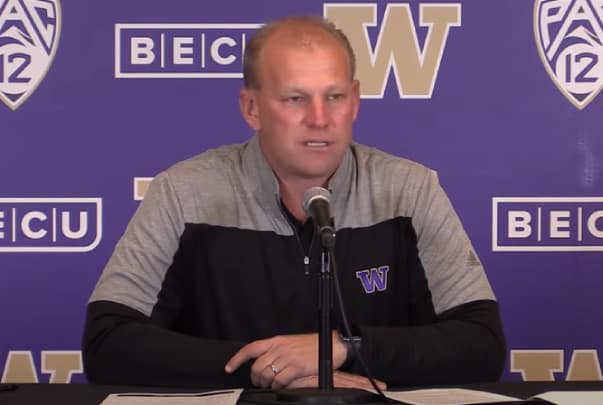 Kalen DeBoer, Washington Huskies.
The latest College Football Playoff rankings came out on Tuesday, and the Washington Huskies are ranked 12th. That ranking has major bowl implications.
Apparently, the College Football Playoff Committee doesn't think very highly of the Washington Huskies. They put out their rankings on Tuesday and did UW wrong.
Normally, being ranked 12th is pretty good. Especially when a year earlier, the team won four games. The problem isn't where Washington is ranked; it's who they are behind.
In the November 22 rankings, Washington moved up to 13 after destroying Colorado. They beat a very good Wazzu team in Apple Cup on Saturday. Meanwhile, Oregon, Clemson, and LSU were upset.
Oregon (9-3, 16th) and LSU (9-3, 14th) are now behind the 10-2 Washington Huskies. So how did they beat a good team and only move up one spot?
Clemson now has the same record as UW, but they are Clemson, a perennial National Title contender. Not too many people have a problem with the Tigers dropping one spot to ninth.
The problem is Kansas State and Utah, numbers 10 and 11, respectively. Both teams are 9-3 and flexed their muscles against also-rans. K-State beat 6-6 Kansas, and Utah blew out Colorado, just like every team CU played in the last six weeks did.
Yet the Committee saw fit to move Kansas State up two spots. Utah jumped up three spots and leapfrogged over the Washington Huskies to 11th.
That means if there were no Pac-12 Championship game, USC would be in the playoff, and the Utes would go to the Rose Bowl. But there is a Pac-12 Championship game. If Utah wins, they deserve to go to the Rose Bowl as conference champions. If USC wins, Utah would drop behind UW.
Huskies fans already knew this. What's the big deal?
A pair of three-loss teams shouldn't be ahead of Washington. This is a respect thing and very likely affects their chances of being an at-large team in a "New Year's Six" bowl game.
UW not only has fewer losses than the two teams ahead of them, they are on a hot streak, winning six straight, including victories over Oregon and Oregon State.
In the same span, Utah is 5-1 while K-State is 4-2. Utah's lone loss was against a team the Washington Huskies beat (Oregon). Yes, the Wildcats destroyed then-third-ranked Oklahoma State 48-0, but the game started OSU's total collapse. That big win doesn't look so impressive anymore.
Ranked 12th puts the Huskies out of the New Year's Six as an at-large team. They need to finish at least in the Top 10. Upsets by LSU (vs. Georgia) and North Carolina (vs. Clemson) would put Washington even further behind the 8-ball.
Both major Polls have Washington ranked ninth and ahead of Clemson, Utah, and Kansas State. Barring at least two major upsets in conference championship games, that would be good enough to play in the Cotton Bowl against the Group of Five representative.